Day 6 - Tuesday 7/13 - Skaftafell to Hveragerði


Breakfast: Hotel Skaftafell ($0)
Lunch: from Kronan Grocery Store, Vik
Dinner: Reykir Restaurant at Hotel Frost & Fire, Hveragerði (3 course meal - fish soup with shrimp, lamb with rhubarb & potatoes, chocolate, strawberries, pistachios, and meringues; $153)
Stay: Frost & Fire Boutique Hotel ($327)
Drive: 284 km / 160 miles / Gas #3 in Vik ($55)
Walk: 13,300 steps / 3.8 miles
Weather: overcast with occasional sun breaks, high 50's
Things we missed: Reykjadalur Geothermal River
Wish we could have spent more time: stopping at things we missed when we were driving east on day 4 but we knew that this was mostly a driving day.
We do a short guided glacier hike, getting to strap on crampons and walk up a glacier. The walk was amazing, but way too short (3 hours including orientation, a short hike to the Falljökull Glacier, a short hike on the glacier, and then the hike back.) In hindsight, we should have done the 5-hour hike.
Drive: 14 km to Skaftafell Terminal for tour orientation, then self drive to the glacier trailhead
Time spent: 3.5 hours (9:30-1:00)
We start to head west to get back to the Reykjavik area and stop one last time in Vik for a picnic lunch on another black sand beach and at Drangurinn I Drangshild, a single outcropping at the foot of a cliff with turf-roofed barns built into its caves. We also make quick detour in Selfoss for yarn.
Drive: 138 km / 1 hour 40 minutes from Skaftafell Terminal to Vik
35 km / 30 minutes to Drangurinn
Time spent: 1.5 hours including lunch (3:00-4:30)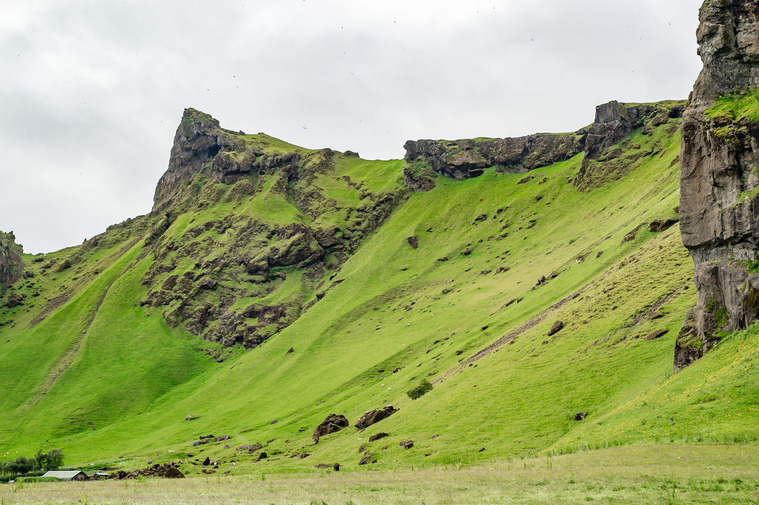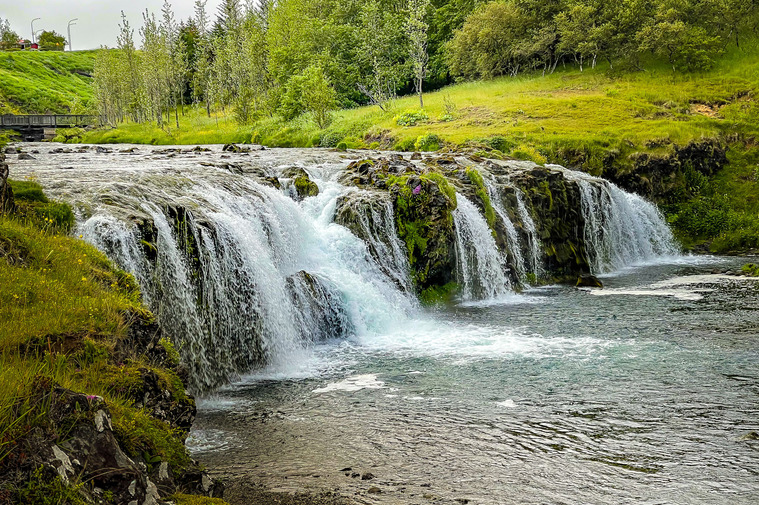 Our hotel is sited right on a river that a 3 km hike away is Reyjadalur Hot Spring River. It's raining. We're tired. We decide to skip the hot spring and walk downstream to a city park instead. Dinner at the hotel is the nicest we've had in Iceland. The hotel is tiny, noisy, and a little run down, not worth being called a "boutique" hotel and not worth $327. There are 2 hot tubs right on the river so that makes up for it a little. We sit in a hot tub an chat with a retired Swiss couple.
108 km / 1.5 hours from Drangurinn I Drangshild
arrive 7:00